Exhibition
DANIEL PFLUMM
Greene Naftali, New York
Daniel Pflumm
CNN, Questions and Answers, 1997
33 minute VHS tape (still)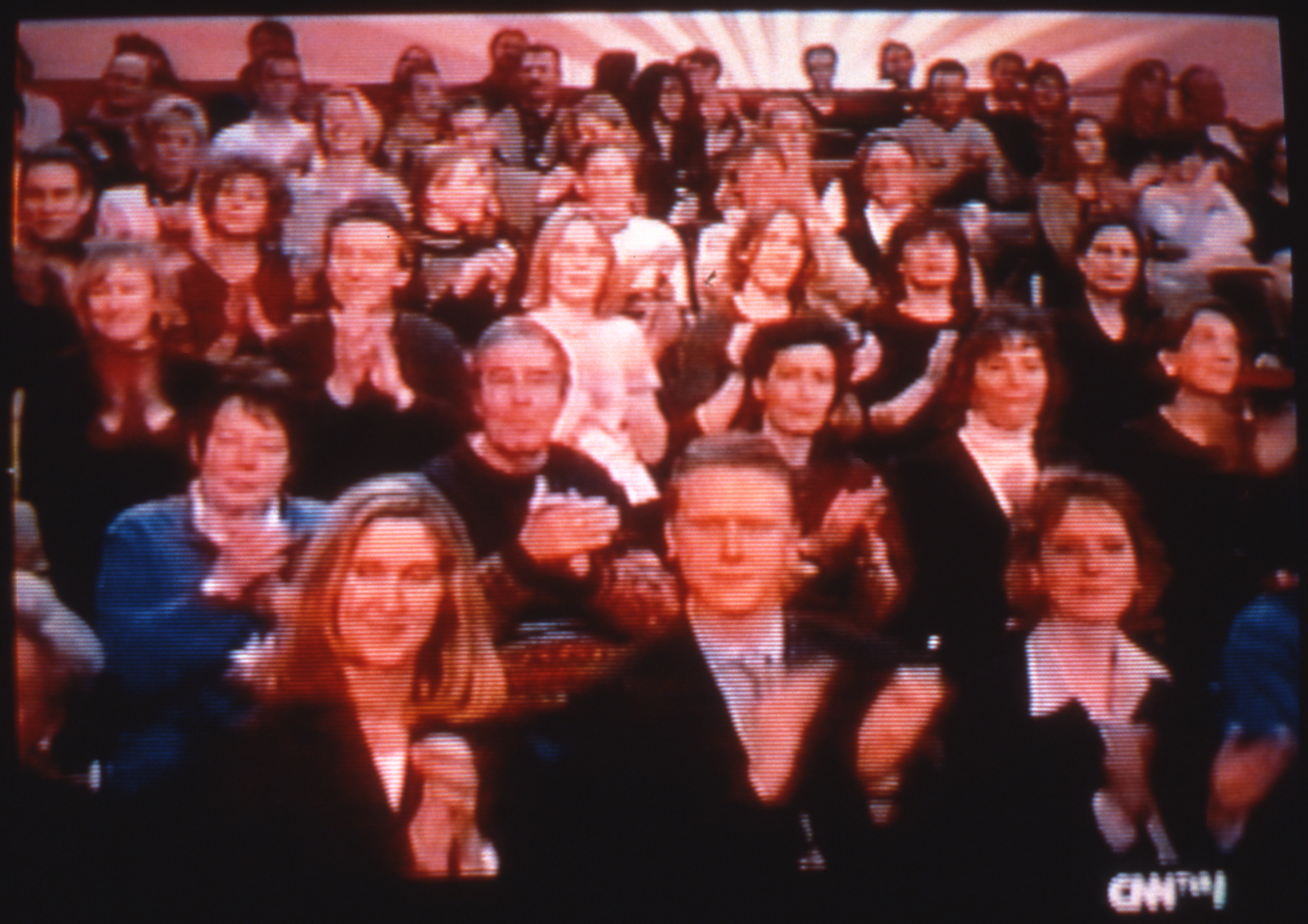 The Greene Naftali Gallery will present an exhibition of new wo7 by the young Berlin based artist, Daniel Pflumm. The exhibition is titled CNN and will include both video and sculpture. This is the artists first solo show in New York. He has shown extensively in Europe and his work is currently on view at Bard College in the exhibition "Sound Foundations". Pflumm is a co-founder of Elektro in Berlin.

Daniel Pflumm performs exquisite operations on corporate logos and re-contextualizes them according to their seemingly endless repetition. These logos, which ordinarily over saturate contemporary lifestyle, are reduced to graphic images that no longer carry a manufactured message but are simply strict conceptualizations that look, oddly enough, beautiful. AT&T, Kraft, Elektra, CNN, Panasonic, BMW and Knorrs are among those manipulated to create meticulously crafted videos, industrial light boxes and commercial CD's and T-shirts.
It is the precise proximity of Pflumm's aesthetic to advertising and media, which makes his work conceptually engaging. It is not exactly clear where the line is crossed between design, brand and art; however, it is self-evident when it happens and the work seems to situate itself across a hierarchy of distribution venues. Illegal clubs and small record stores in Berlin and Cologne sell the T-shirts and CDs while the videos and light boxes have been shown in museums and galleries.
Pflumm's work follows more from a legacy of minimalism than deconstruction. Carefully sliced edges, swelled curves and dropped words create new forms, which increasingly emphasize their abstraction and are found in all the products. The highly edited videos collage digital images, casual street scans, sampled pop material and low budget mini-narratives. They are rhythmic, repetitive and exacting in structure. The logos are taken from commercial and industrial products and the artist uses industrial processes in the production of his products. In the end the critical commentary that the work generates never overrides visual formal properties.
Pflumm's visual work is linked to a music project under the heading of his Elektro label, which is entirely successful on its own terms in the music industry. The sound dimension further engages and problematizes things for the viewer. The mapping of music to image is so tight that there does not seem to be any separation between the sharp visual forms and the cerebral minimal music (that has been hailed "Sound of Sparta" in recent reviews) which it marries. Pflumm in some ways recreates the totality of the systems, which he appropriates and then transforms them with a deftly nuanced repetition that allows his work to seamlessly slide across multiple conceptual and physical spaces.