Exhibition
CORY ARCANGEL
Century 21
Ground Floor
Cory Arcangel, Installation view, Century 21, Greene Naftali, New York, 2021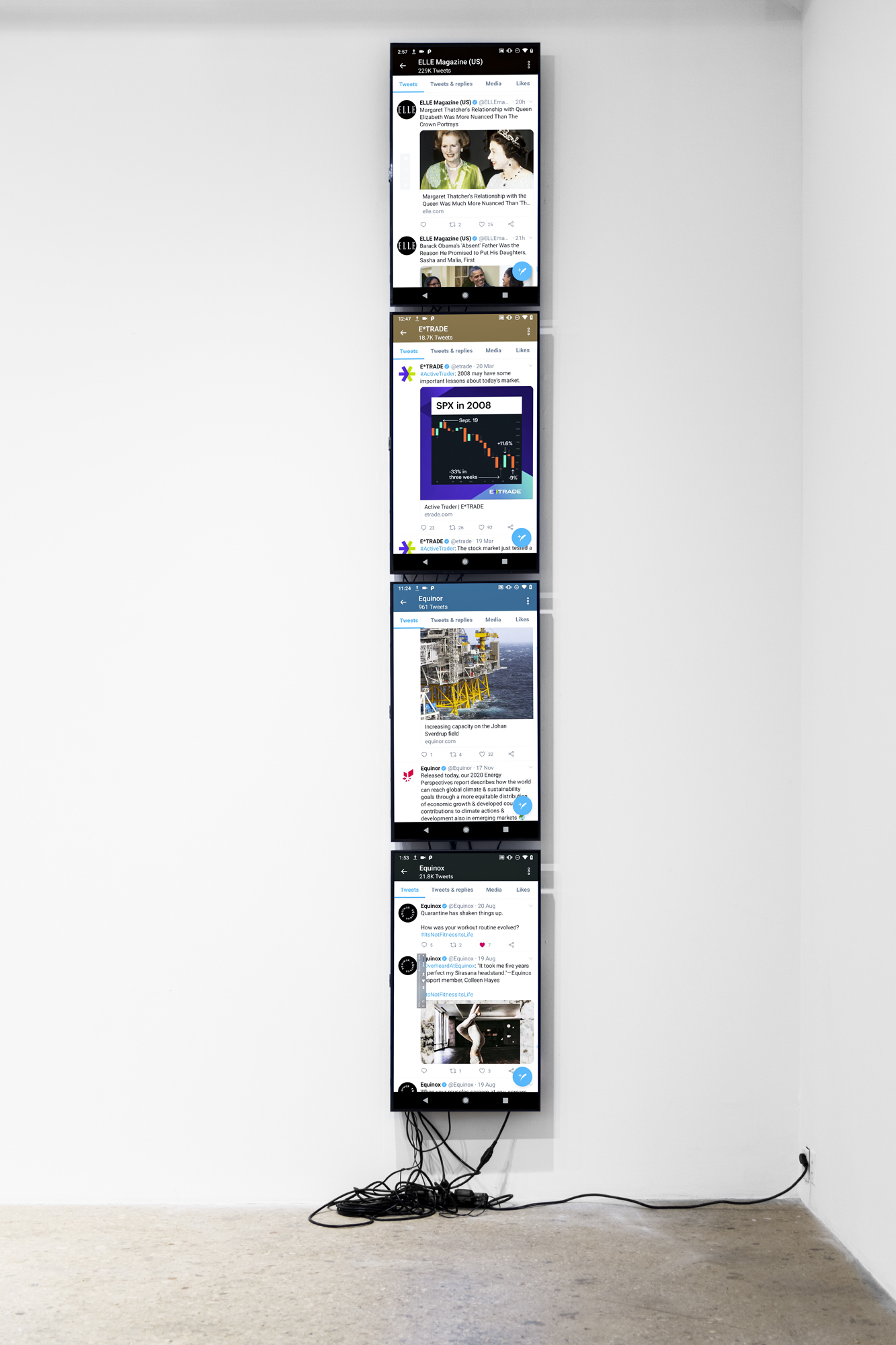 Cory Arcangel hacks into the systems and software that define our networked lives, introducing glitches and misfires that reveal the perils of technological dependence. His debut solo exhibition at Greene Naftali will intensify themes he has honed over two decades, using the structures and social mores of digital platforms as his primary artistic material.
Featuring both real-time and recorded media interventions, works on paper and riffs on painting, the exhibition centers on his most ambitious work to date: a live feed of a custom computer navigating the videogame Kim Kardashian: Hollywood,using machine learning—intended to streamline performance—toward more ambivalent ends. A player's goal in the game is to increase their fame and reputation to become an A-list celebrity, and Arcangel's operating system fumbles its way through this ersatz version of suburban Los Angeles. The work's layered visuals comprise the flattened graphics of the role-playing game itself, an array of colored boxes the algorithm uses to identify what it encounters, and scrolling lines of code that correspond to the program's automated progress, with in-game sounds composed by the musician Daniel Lopatin (Oneohtrix Point Never). /roʊˈdeɪoʊ/ Let's Play: HOLLYWOOD recalls the modified game cartridges that marked Arcangel's early career, but the use of artificial intelligence expands the scope of those prior interventions—here the game has been repurposed in ways that even the artist does not control, and the outcome of play cannot be known in advance. The work's hypnotic effect turns ominous if one contemplates the endless reserves of data that clutter the screen, and the urge to optimize the pursuit of fame for its own sake.
Affirmation as currency is the subject of another video work, elleusa, equinor, equinox, etrade_financial, in which a bot has been programmed to scroll through the Twitter feeds of these corporate accounts, indiscriminately 'liking' every post. That blanket enthusiasm mimics the actions of click farms paid to generate fake traffic online, falsely inflating one's popularity and corrupting the (already suspect) economy of influence. Tactical maneuvers play out through social media more directly in we deliver / the king checked by the queen, another recording of an automated performance; here two chess-playing bots communicate through a system of alphanumeric notation, each move left as a comment on a public Instagram account of Arcangel's choosing.
A third bot-driven work, Related to your interests, is not on view in the gallery, but can be found on YouTube as an extension of the exhibition's physical format. Arcangel has long been interested in the different forms of attention his work commands in person and online, and Related to your interests exists solely in the digital realm from whence it came. A program autogenerates two YouTube videos per day in perpetuity, scraping content from clickbait websites and repackaging the found footage. The channel contains hundreds of hours and counting of these strange composites, which produce fragmented nonsense narratives that exist without aim or audience. Other online-only artworks—as well as those on view at Greene Naftali—will be available on a dedicated website through the run of the exhibition: https://linktr.ee/century2l
Alongside these moving image works are the newest examples of Arcangel's Flatware series: wall-mounted reliefs made by transferring images of scanned textiles onto Ikea tabletops. Here the fabrics all come from sweatpants—both iconic brands like Adidas and no-name dollar-store fare—in works that reference the global ubiquity of athleisure and big-box stores. That the resulting works are so visually enticing adds another dimension to Arcangel's critique, channeling the legacy of post-painterly abstraction without ever wielding a brush. "Where can painting go after so many hundreds of years?" he has asked. "I think the best artists acknowledge the joke."
That art historical sensibility also turns comedic in a series of typographic works, in which slogans are printed (using a Laserjet in his home office) on airsick bags lifted from commercial flights. The banal phrases—"now let's be clear," "let me explain"—are common in the Twitter vernacular, often used as inoffensive lead-ins to some incendiary statement. Free of context, the words take on a more beguiling, poetic quality, akin to the language-based works of Bruce Nauman or Ed Ruscha that hint at meaning but never prescribe it.
***
In parallel with Century 21, Arcangel has also co-organized an evening of new music composed for the pipe organ, featuring musicians from the U.S., Scandinavia and Europe. The virtual concert, titled Remind Me Tomorrow, will take place on April 8 at 8:00 p.m. More information is available here: https://issueprojectroom.org/events
The artist would like to thank his studio—Amanda Schmidt, Josie Keefe, Henry Van Dusen—and programmer Kevin Roark, all without whom this exhibition would not have been possible.